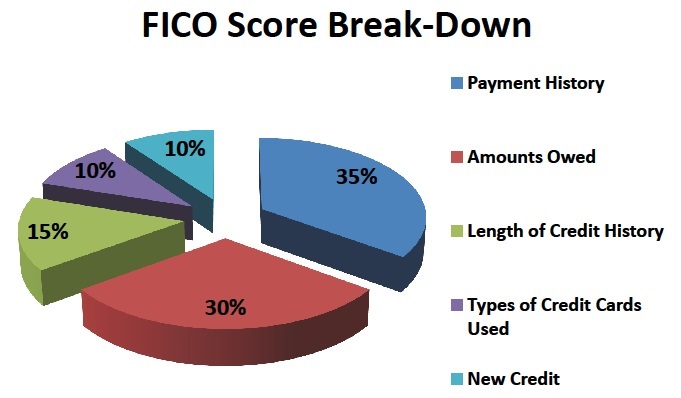 FICO measures credit-worthiness. Underwriters use three credit bureaus, Equifax, Experian, and Trans Union, to determine your score in the following ways:

1. Delinquencies lower scores, and scores drop when several credit accounts are opened in a short period.

2. A long credit history is better than a new one, and too few revolving accounts makes it harder to evaluate the ability to manage credit.

3. Consumers with "maxed out" cards may have trouble making payments. Too many revolving accounts indicate over-extension.

4. Tax liens, bankruptcies, and use of consumer credit agencies can all lower a FICO score.

5. Small credit card balances and no late payments show responsibility.
Your credit score is a three-digit number derived from detailed information about your credit history, and it can be one of your most valuable assets. Your credit score will play an important role in your financial future: it can mean the difference between being able to purchase a home with a mortgage or having to continue renting. It can also drastically affect the rate of interest you pay on your loans (car loans, home loans, privately consolidated student loans, etc.). The higher (and better) your credit score, the less interest you will have to pay each month and overall. Your credit risk is evaluated, largely by reference to your credit score, any time you apply for a credit card or any type of loan. Keep in mind, though, that landlords, utility companies, and potential employers may also take this information into account. A poor credit history may mean having to make a large deposit in order to open an account with the electric company or to sign a new lease. It could even mean the loss of job opportunities.

Various organizations provide different credit scores, though all are similarly calculated. The FICO score is the best know and most widely used credit score. A FICO score ranges from 300 to 850, and those with scores of 740 and higher are typically entitled to the best interest rates.